Over the weekend I hosted a kid friendly Halloween party. I spent Friday preparing a few cute Halloween activities, and recipes for everyone to enjoy. I have added the recipes so you can do them with your family and children. I tried to take the best pictures I could, but have 'stolen' a few higher quality pics from other sites as noted. Thanks for reading!
'Mummy Dogs'

Not sure where I originally got this recipe from, but here it is! (The only change I made to this recipe was I cut the hot dogs in half length-wise. Hot dogs are pretty bad for your anyway :). You can use full hot dogs, but I don't suggest the kind that 'plump' when they cook.)
Ingredients: about ten hot dogs and crescent rolls. Optional for 'face': ketchup, mustard, peppercorns etc.
Heat oven to 375 degrees F.
Crescent Rolls: Unroll dough; separate at perforations creating 4 rectangles; press perforations to seal. Recipe Creations: Unroll dough; cut into 4 rectangles.
With knife or kitchen scissors, cut each rectangle lengthwise into 10 pieces, making a total of 40 pieces of dough. Slice cheese slices into quarters (1/2 slice cheese, cut in half).
Wrap 4 pieces of dough around each hot dog and 1/4 slice of cheese to look like "bandages," stretching dough slightly to completely cover hot dog. About 1/2 inch from one end of each hot dog, separate "bandages" so hot dog shows through for "face." On ungreased large cookie sheet, place wrapped hot dogs (cheese side down); spray dough lightly with cooking spray.
Bake 13 to 17 minutes or until dough is light golden brown and hot dogs are hot. With mustard or ketchup, draw features on 'face.'
Next on the menu was:
'Halloween Sandwich Bites!'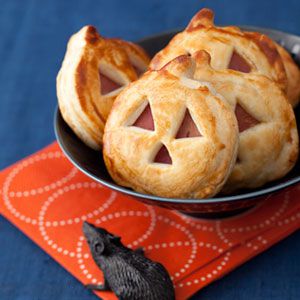 This picture/recipe was borrowed from: http://www.delish.com/entertaining-ideas/holidays/halloween/jack-o-lantern-sandwich-bites-halloween-dinner-party-recipes#slide-7
Ingredients: refrigerated pie crust (or you can use excess crescent roll dough from above recipe!) ham (or any other lunch meat,) cheese, and an egg. Also you will need some type of cookie cutter (we used a pumpkin and a ghost!).
Heat oven to 425°F. Line a rimmed baking sheet with nonstick foil.
Unroll pie crusts. Cut each crust into 24 pumpkin shapes with a 3-in. pumpkin cookie cutter. Using a 1⁄2-in. triangular cookie cutter or a sharp knife, cut out eyes and a nose from 12 of the cutouts.
Using a 2-in. round cutter, cut 24 rounds from the sliced ham and 24 rounds from the sliced cheddar.
Place 2 slices cheddar in the center of each of the 12 solid pumpkins; top each with 2 slices of ham. With a small brush, brush beaten egg around edges. Top with remaining pumpkins with cut-out faces, carefully pressing on edges to seal.
Place on prepared baking sheet. Brush tops with beaten egg. Bake 12 to 15 minutes until light golden. Let cool on rack 5 minutes before serving.
(Just as a side note, you can make these a little fancier by adding some spices to the inside, or veggies to make it healthier!)
The recipe that was the most labor intensive, but most worth it was:
'Scary Deviled Egg Eyes!'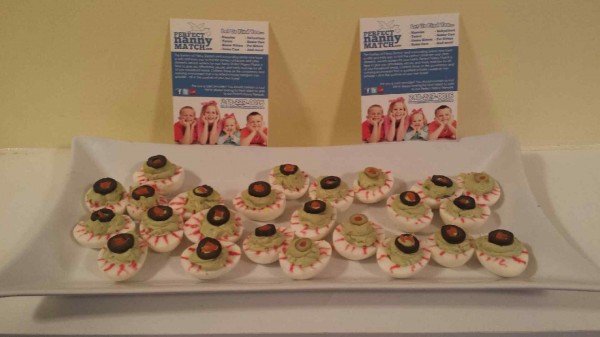 Ingredients:
12 hard boiled eggs
1/2 C. mayonnaise or Miracle Whip
2 green onions, finely minced
1 tsp. dried parsley flakes
1/2 tsp. dry ground mustard
1/4 tsp. salt
1/4 tsp. paprika
1/4 tsp. garlic powder
blue food coloring, as needed
redpaste food coloring, as needed(I didn't use the paste, I used regular food coloring)
24 slices of black olives/or green!
pimentos or fresh red peppers
Instructions:
Peel the hard boiled eggs and slice in half lengthwise. Scoop the yolks out into a large Ziploc back and reserve the whites until needed.
Squish together the yolks until smooth in the Ziploc bag.
Add mayo, onions, parsley, mustard, salt, paprika, and garlic powder. Mix well.
Add a few drops of blue food coloring to turn the yellow mixture a soft green.
Put all ingredients into the ziplock bag, cut a small bit of the corner of the bag off (kind of like a cake piping bag) and put the green yolk mixture into the cavity in each white half, dividing evenly.
On top of each yolk filling, place one black olive slice. Add a small piece of pimento or red pepper for the pupil.
With a toothpick dipped in red food coloring , draw red veins on egg white's surface. (If you use regular liquid food coloring, be sure not to use too much, as it will run!)
Cover and chill until ready to serve.
and last but not least:
'Ghoulish Punch!'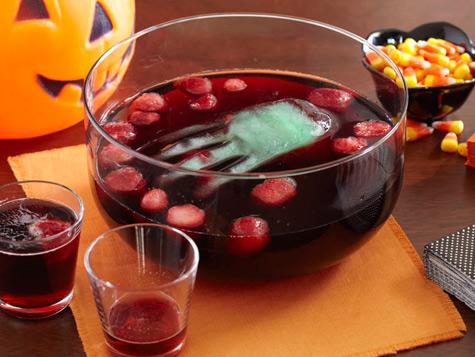 Recipe and picture borrowed from http://spoonful.com/recipes/bloody-punch-with-floating-hand
Ingredients:
3 cups cranberry juice
1-1/2 cups apple juice
1-1/2 cups grape juice
2 cups caffeine-free cola
1 cup frozen strawberries (I skipped the strawberries, mostly because I forgot. It looked great anyway!)
In a large pitcher or punch bowl, combine the cranberry juice, apple juice and grape juice. Stir, then refrigerate until you're ready to serve. At the last possible moment, add the cola, the strawberries and, of course, the Floating Hand of Death.
For the Floating Hand of Death
In a measuring cup or jar, stir a few drops of green food coloring into some water -- not too much, just enough to give it a slightly decomposed tint.
Pour the greenish water into a disposable rubber glove (the stretchy kind -- make sure it's not powder-coated inside) and tie the top securely. Place in the freezer for several hours or overnight.
At serving time, peel the glove off the hand and deposit icy hand in chilled punch. Yum.
These recipes didn't take too long to prepare, and they were fun to do! Many of the steps were easy enough to involve a child. I hope everyone has a safe and enjoyable Halloween! I know we sure did!