Birmingham MI's #1 Nanny Agency
Local Nanny Matching Agency Can Take the Stress Out of Finding the Right Nanny for Your Family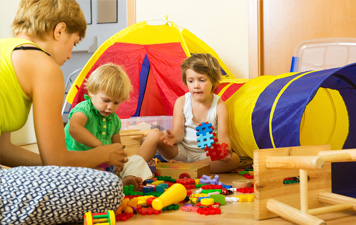 Perhaps one of the most important decisions you will make as a parent is choosing the right nanny for your children and family. Your family and your children are unique, and you want to find a kind, nurturing, team player who naturally blends with your family dynamics and bonds with your children. The daunting task of hiring a nanny requires responsibility on every aspect of the search from setting up profiles, reviewing candidate information, communicating with potential hires, interviewing candidates, and conducting complete background checks. This search process is not only consuming and expensive; it is downright intimidating. Utilizing the services of a professional nanny agency can save you time and help alleviate the stress involved in the highly important nanny match process.
A nanny finder agency exists to help make the process of hiring quality childcare for your children run smoothly and cuts down the legwork you would do if you were to hire a nanny on your own. The process begins with an application completed by you and a home visit from the agency that helps your placement coordinator get to know you as a family. Your expectations, your lifestyle, and your values are priority one in finding the ideal nanny. Once this is done, the agency gets to work to locate your perfect match, freeing you up to spend your free time with your family.
About Our Approach
---
Perfect Nanny Match Finds A Nanny You Can Trust in Birmingham MI
You will no longer have to fear having a virtual stranger in your home and in the company of your children because the company does the pre-screening for you. The nanny matching agency will identify candidates from their existing pool and through interviewing and screening new candidates based on your specific needs. Each candidate is prescreened and has undergone an extensive application process to be considered for employment including a criminal background check, identity verification, driving history review, , work history review, documentation check, and a personal interview. Each candidate is further assessed on hygiene, personality, and professionalism. If you were to tackle this task yourself, you would spend hours of your valuable time over a period of many months and still only have a limited pool of candidates at your disposal.
Once these prescreened nannies who match your family needs have been identified, the matching agency will provide you with a paired down list of candidates with detailed information about each caregiver for you to review. They will then schedule in-person interviews with potential nannies for you based on your schedule availability. The process will continue until you find the right caregiver for your family. This system eliminates your need for sifting through dozens of applicants, the hassles of trying to reach candidates on the phone and then conducting interviews time and time again. It is difficult and stressful to leave your child in the care of someone else, but it does not have to difficult and stressful to find the right prescreened nanny for your family.
Find A Nanny