Exceptional Nanny Placement Services in Metro Detroit
Have you applied to hundreds of families, gone to multiple interviews or even had the family call you last minute and cancel?
Maybe you've started a new position just to find out that the family didn't really understand that this is your career? Trust us, we've been there. We know what it can be like trying to negotiate through all of the possible issues that can come up with scheduling, contract terms and the benefits the job offers (such as vacation or who pays for gas). At Perfect Nanny Match, we've designed our match process to take all of those variables and put them into simple, easy to choose terms for both the family and the nanny. This way, when you're matched, you get exactly what you're looking for without having to waste your time.
---
Why Choose Perfect Nanny Match for your job search?
---
Working with Perfect Nanny Match is an easy choice; we really care about our nannies! As a former professional nanny, PNM owner Lena truly understands what it takes to choose the right family to work with. We get to know each nanny on a personal level in order to match them with the best possible family. We cannot guarantee placement into a position, but once you pass our vetting process, we will send you out on as many job interviews as you are qualified for.
---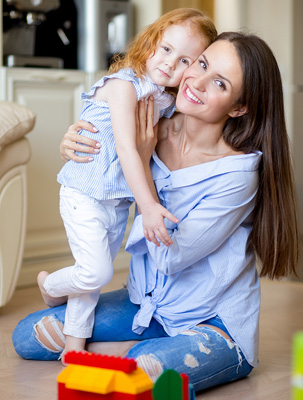 Let's face it, families who use our agency are taking that extra step to make sure their nanny stays long-term and is happier with their job. Therefore, we feel that we have the higher quality jobs that professional nannies are seeking. Candidates will have access to better-paid positions, and our families are well-versed in tax laws and employment packages. Our clients are all required to offer paid vacation, holidays off and (most of the time) sick days. Our clients have been given expectations on how to make their relationship with their nanny flourish so, in turn, you'll have greater job satisfaction.
---
Perfect Nanny Match has just as high of standards for our families as we do our nannies. Each family who works with Perfect Nanny Match has been met in their home for an extensive interview. We make sure their homes are safe and that the family has an understanding of proper hiring practices. We give the candidate as many facts as possible about every family we work with so they feel prepared and safe at their interviews. We even speak with our nannies after they interview to make sure it went well!
---
We know that being a nanny can be hard, but also immensely rewarding. We're well aware that we wouldn't have a business if it weren't for our amazing candidates! As a result, we work hard to make sure we are doing everything we can to make the process simple and successful for each nanny.
---
It will never cost a candidate money to find a job through Perfect Nanny Match. Our placement fee is paid by the families, so you won't ever be charged for this service.
---
All emails, calls or messages are answered within 24 hours (even on weekends) to make sure you're well taken care of. We believe in honesty and will let you know if you are or are not a good fit for Perfect Nanny Match. We are in constant contact with you during your match process, as well as frequent check-ins once you've started the position. We are always here to help and be a resource!
---
At Perfect Nanny Match, we're proven to match nannies with families – perfectly. Contact us today to get started!