Blog post written by Lena, the owner of Perfect Nanny Match as well as recipes used from various blogs: curveycarrot.com and hungryhappenings.com
Thanksgiving is a time for family, thankfulness and FOOD! While you are busy trying to get all the food, decorations, cleaning etc done for your families Thanksgiving dinner, what will your children be doing? Allowing your children to be involved in the cooking/preparation of food will get them excited to try new things, and hopefully will lead to less hassle during dinner. (and will keep them busy while you are trying to get things taken care of!)
Here are some ideas from Perfect Nanny Match and around the web. Many of these recipes can be done with little supervision from parents or caregivers.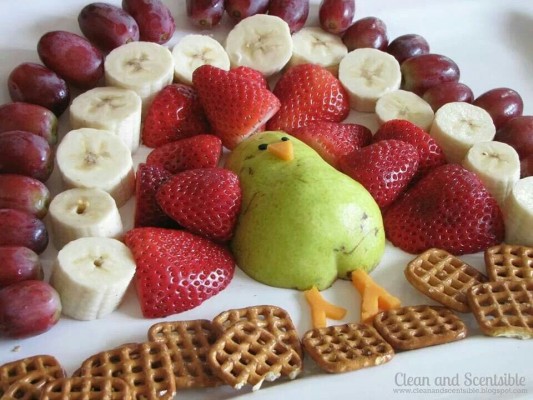 By using fruit, pretzels and a bit of cheese, children and parents can make a beautiful turkey appetizer for Thanksgiving!
Appetizer Turkey
Ingredients:
Grapes, bananas, strawberries, pear, block/sliced cheese, pretzels (or crackers)and two peppercorns. All ingredients can be substituted with other fruits (whatever you have in the fridge works!)
Directions: I would suggest starting with the pear in the middle (but in half) and working your way outwards. The crackers on the bottom serve as the 'ground' for your turkey to stand on. Put on a plate, and you are all set! I would suggest using peppercorns for the eyes of the turkey. Other than cutting the cheese into the beak/feet, children can do all the steps to this recipe!
Spinach Tator Tot Bites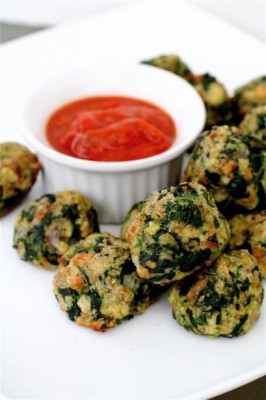 Get your kids to eat their spinach by having them help make these adorable stuffing/spinach tator tots!
Kids can help with step number 8!
Servings: 18-24 spinach bites, depending on how big you make them
Ingredients:
1/2 cup (1 stick) unsalted butter
1 small onion, chopped (about 1/2 cup)
1 teaspoon minced garlic (about 1 clove)
2 10-ounces packages frozen chopped spinach, thawed and drained
1 8-ounce bag of herbed seasoned stuffing mix*****DO NOT PRE-COOK THE STUFFING. USE IT RIGHT FROM THE PACKAGE, DRY.
6 large eggs
1 cup grated Parmesan cheese
Salt and pepper, to taste
1. Preheat the oven to 350 degrees.
2. In a large sauté pan over medium heat, melt the butter.
3. Add onion and cook until the onions are translucent and soft, about 5 minutes or so.
4. Add the garlic and cook until fragrant, about 30 seconds. Remove the pan from the heat and let cool.
5. In the meantime, remove excess water from thawed spinach by pressing it between paper towels. **You do not need to cook the spinach.
6. In a large bowl, combine the stuffing mix, spinach, eggs, Parmesan, salt and pepper, and onion/garlic mixture. Combine well.
7. Line a rimmed baking sheet with parchment paper.
8. THIS IS WHERE THE KIDS CAN HELP! One at a time, using your hands, roll the mixture into individual 1-inch balls. Place each one on the parchment-lined baking sheet.
9. Bake the balls for about 15-20 minutes, or until very slightly browned.
Dipping sauces: I used marinara, but you could use Ranch dressing, sour cream, horseradish, etc. Whatever you like!
(recipe by www.thecurvycarrot.com)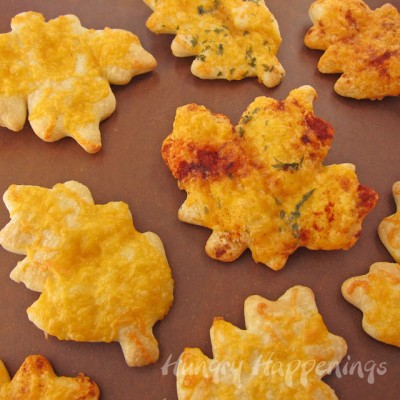 These leaf shaped crescent rolls can easily be made by children!
Cheesy Leaf Shaped Crescent Rolls
Kids can help with almost all steps in this recipe!
Servings: makes 8-10 depending on the size of the cookie cutters you use

Ingredients:
1 tube Pillsbury Crescent Recipe Creations Seamless Dough Sheets*
flour, to dust cutting board
1 tablespoon butter, melted
4 ounces finely shredded cheddar cheese
optional, Spanish Paprika and parsley
Special Supplies Needed:
cutting board
leaf shaped cookie cutters
baking sheet lined with parchment paper

Instructions:
1.Preheat oven to 400 degrees Fahrenheit.
2. Unroll Pillsbury Crescent Recipe Creations Seamless Dough Sheet onto a cutting board that has been lightly dusted with flour. Cut using leaf shaped cookie cutters.
3. Set your crescent roll leaves on a baking sheet lined with parchment paper. Set your scraps of crescent roll dough on another baking sheet, if desired.
4. Brush butter over each leaf shaped crescent roll. Sprinkle cheddar cheese over each leaf. Optional – If you want, sprinkle on some paprika and/or parsley to add some color to your leaves.
5. Bake for 7-8 minutes until the rolls are golden brown and the cheese is bubbly. Bake your tray of scraps for 6-8 minutes until golden brown. Snack on them while you are working.
6. Once out of the oven, you can serve immediately, or allow them to cool, store them in an airtight container and re-heat just before serving. Place in a warm oven and heat for 3-5 minutes, just until warm.
Thank you to Hungry Happenings for this amazing recipe. So easy!!
- See more at: http://www.hungryhappenings.com/2012/11/cheesy-crescent-roll-leaves-for-your.html#sthash.uLw0m4Ue.dpuf
Check out our Pinterest board for more recipe ideas!